The late Nicole Guertin was honoured by the town of Kapuskasing during a ceremony on Friday afternoon at the Welcome Centre. Guertin, who died in 2021, was remembered for her promotion and contributions to tourism in Northern Ontario.
A plaque was unveiled at the entrance of the Welcome Centre that was originally announced by town council during an awards presentation in Mid-November. Her mom Jacqueline Guertin says the ceremony is very special to the family.
"You know we are doing both ends because she was recognized in Ontario, in Quebec in Toronto and now at home," she said. "She is coming back at home."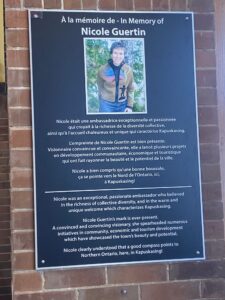 Jacqueline Guertin says her daughter would have been very touched by the town's gesture.
"I think that when she got her first recognition from La Caisse Populaire she was given the name as social entrepreneur," she said. "And she said that is what I am. I am not there to make money I am there to make sure people are."