A youth committee pitched a new outdoor skating rink to Kapuskasing town council on Monday night. Teacher liaison Emily Piche-Swain says the children gathered all of the information from talking to a construction company to finding money to pay for it. The new rink would cost $620,000.
"They surveyed their schools and the results were so close that they couldn't really decide so they came up with a brilliant idea of having a multi-function facility," she said. "So in the winter have an ice rink and in the summer have it paved so they could play basketball or rollerblade on it."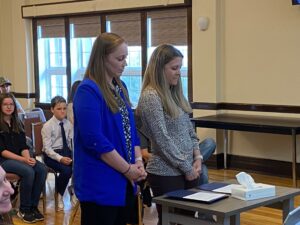 Teacher liaison Emma Dagenais says the project taught the kids how to pitch for something for their community. The next step is in the hands of council.
"So be great if council came back with whatever decision they make find a way to continue to involve the youth whether it's a rebuild of an outdoor recreation facility, and go from there and use their voice because they have the best ideas, these kids," she said.
The teachers say the presentation and committee was inspired by the Breanna Plourde Memorial Fund.